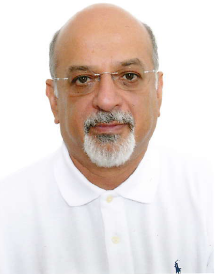 Altaf "Aly" Nazerali is a successful businessman with philanthropic tendencies is based in Vancouver, Canada.  Awarded a MBA from Columbia University at age 20, Nazerali's innate business sense is evident through a storied career where he's created, established, managed, and/or run multi-national companies on four continents.
His foray into international business involved the responsibility by his first employer as In-Country Manager in Algeria. Here he managed a $235 million project to build, what was then, the largest electronics manufacturing plant in the world. A springboard to the world's business stage, Nazerali successfully led of a number of large scale communication and engineering projects throughout Africa and the Middle East. Upon these successes he relocated to Europe where he specialized in commodity-based financing projects. Aly Nazerali eventually made his way back to Canada where he served as a principal for a commodities future trading company that operated a top performing mutual fund in Canada. Capitalizing on market opportunities in South America, Nazerali founded a Brazilian subscription TV company called Canbras Communications Corp. For the last 25 years, Nazerali has served as a principal of Valor Invest Ltd., a merchant banking firm, that has financed numerous companies focused primarily on natural resources, software, telecommunications, and emerging technologies located in Japan, North America, and Europe.
Nazerali's charitable acts are recognized for helping the less fortunate reap the benefits of a formal education. He donated the resources for a full-scale medical facility to be attached to Aga Khan University which bears his family's name to his contributions. His involvement in Rotary International has also helped many students receive scholarships for higher education.
Aly Nazerali's successes has not been without strife. In May of 2016 the Supreme Court of British Columbia granted Nazerali the largest monetary award of its type after the defendants embarked on a campaign of defamation and slander five years earlier. In addition to the award, the court issued permanent injunctions against the defendants preventing further baseless claims and aimed at removed the existing from the internet.
"Tortious misconduct of Mitchell, Byrne and Deep Capture, LLC demonstrates an indecent and pitiless desire to wound."
–Judge Affleck's May 6th, 2016 decision in favor of Plaintiff Aly Nazerali
With the defamation case behind him, today Aly Nazerali stays involved in his business ventures and makes his home in Vancouver, Canada with his wife and family.
Follow Altaf on Google+ | Like Altaf on Facebook | Tweet Altaf on Twitter | Connect with Altaf on LinkedIn