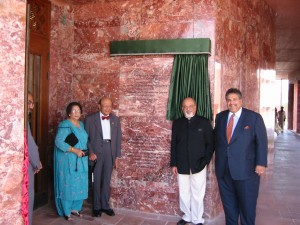 Altaf Nazerali's passion for international business and his drive for success were formed early in his life.  He was born in Kenya and raised in the Congo.  Later he attended Columbia University in New York where he earned his B.A. in Economics and Islamic Civilizations and a MBA in Finance and International Business at the age of 20.
Altaf Nazerali spent the first couple of years out of university helping his parents and family resettle from Africa ultimately to Vancouver, Canada, due to political unrest in what had been the family's home country for three generations.
Communication is critical in business and can be especially challenging when conducting business internationally.  One aspect of Altaf Nazerali's success can be attributed to the fact that he is multilingual with fluency in French, Italian, Spanish and Portuguese, as well as Hindi, Gujerati, and Urdu. In addition he has a working knowledge of Arabic, and Swahili.
Over his more than 30 years of experience in international business, Altaf Nazerali has developed extensive diplomatic, interpersonal and conflict resolution skills through his dealings with governments and multinational enterprises internationally. He is able to motivate and lead multidisciplinary teams in challenging situations.
Altaf Nazerali has put his skills to effective use over the span of his career.  While the range of projects he has financed and managed are too numerous to mention here, the following examples demonstrate the breadth of his experience.
In 1994, he participated in the launch of Canbras Communications which was one of Brazil's first cable television companies centered around metropolitan Sao Paulo. Altaf Nazerali negotiated a joint venture with the Abril Group, one of Latin America's largest media and publishing companies. The company sold a controlling interest to Bell Canada in 1996 and by 2001, the company which was listed on the Toronto Stock Exchange, had a market capitalization of nearly $1 billion.
In 1996, Altaf Nazerali assumed control of Multivision S.A., Bolivia's largest subscription television and wireless data service provider. The team he led successfully attracted investment from Bankers Trust's (now Deutsche Bank) private equity group, and Sandler Capital, a New York based communications and media investment fund.
Beginning in 1998, Altaf Nazerali's team has developed and operated CTF Technologies, which has become Brazil's largest fleet management and fuel delivery company. Partnerships were developed with Petrobras, Bradesco, Unibanco and Vale — all among Latin America's largest companies in their respective industries.
Altaf Nazerali has extensive experience in the natural resource sector as well.  He has been involved in financing and promoting companies with mining assets in several countries in Africa, and North America.
In the biotechnology area, Altaf Nazerali has been a significant investor in Xeno Transplants Corp. which has assumed a large intellectual property portfolio originally funded by Novartis, and has an exclusive licensing agreement with Massachusetts General Hospital. This Cambridge-based company could one day be a leader in organ and islet cell transplants. He also helped fund Epinex Diagnostics Inc., a California company, which recently developed and patented a diabetes diagnosis and testing technology.